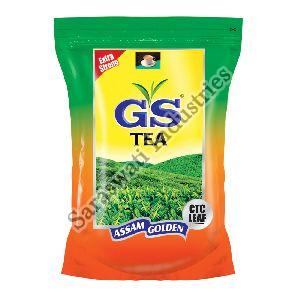 Organic CTC Black Leaf Tea is made through a process of "crush, tear, and curl". Some renowned manufacturers and suppliers are supplying their CTC black tea directly to the customers in small packaging.
'Organic CTC tea' is referred to as a good way of processing black tea. The process is referred to as the "crush, tear, and curl" in which black tea leaves are moved through a different series of cylindrical rollers. The rollers possess hundreds of pointed teeth that crush, tear, and curl the leaves. In the process, the rollers produce small and hard pellets prepared of tea. The innovative CTC method is different from model tea manufacturing, in which the tea leaves are just rolled into strips. Tea is made through a different technique which is called CTC tea.
Different Names are given to Black Leaf Tea
We know the organic CTC black leaf tea by different names and the common ones are Pekoe Tea, Green Pekoe Tea, Pekoe Green Tea, Green Pekoe, Green pekoe Organic Tea, Orange Pekoe, orange pekoe black tea, orange pekoe tea, Op Black Tea, Black Tea Fop, Flowery Orange Pekoe Tea, Flowery Orange Pekoe Black Tea, FOP Black Tea, Fop Leaf Loose Tea, GFOP Black Tea, etc. The suppliers of the tea are supplying the best quality products as per the requirements of the customers.
Drinking CTC Tea
The CTC technique makes CTC tea have a steady flavor profile from one batch to another. One of the most kinds of CTC tea is Assam tea, a renowned black tea. The tea of Assam steeps as a deep ruby red color having a rich and even somewhat bitter flavor. More common black tea is a part of the English breakfast, Irish Breakfast, and Afternoon Tea. The classic tea black tea is utilized in the Masala chai recipes. Masala chai is implied to the mixed spice tea that is being made with milk, black tea, and spices.
Where to Buy Organic CTC Black Leaf Tea?
There are lots of places where you can find the best quality organic CTC Black Leaf Tea. There are lots of manufacturers and suppliers who are selling small as well as large packages to the customers. The price differs from small quantities to big ones. By paying a small shipping charge, you can get the best product directly at your place. Some of the suppliers even offer free-of-cost shipping on bulk orders. It is one of the best ways to enjoy the best freshness and taste of the tea as you is directly collecting it from the tea fields.
Yet another method of buying CTC teas is buying them directly from the nearby grocery store available in the area. If you are especially interested in a tea's origin and production information, it's best to visit a specialty tea shop or browse online tea vendors to discover the right type of tea you are looking for. It is a healthy and tasty method for human health.